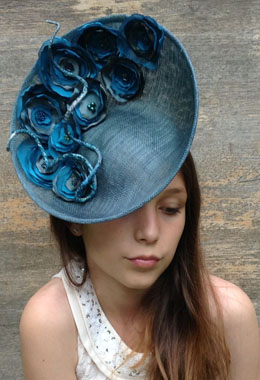 Teal Dish with Flowers and Quill
This stunning hat is hand blocked from teal sinamay. It is embellished with handmade teal and silvery grey flowers made from a variety of fabrics including satin and organza with beads sewn in the centres. It is finished with a unique handmade textured quill. The hat is worn on the right side of the head and is mounted on a black covered wire band. The diameter of the dish is 24cm.
To purchase contact Scarlett Valentine.
Email info@scarlettvalentine.com
Click below to enlarge




Click below for Matching Items