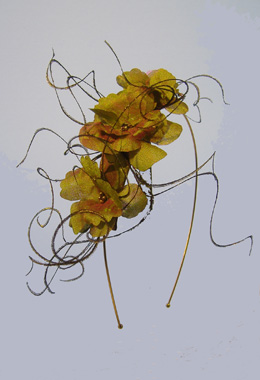 Pink and Green Silk Blossom Hairband
This delicate headband is made using a pink and green shot dupion silk. The flowers are all handmade with beads at their centres and trimmed with curled iridescent peacock fronds. The flowers are attached to a gold metal wire which is easy to put on and comfortable to wear. Worn towards one side of the head, this is a really flattering piece for a bride or bridesmaid.
To purchase contact Scarlett Valentine.
Email info@scarlettvalentine.com
Click below to enlarge




Click below for Matching Items